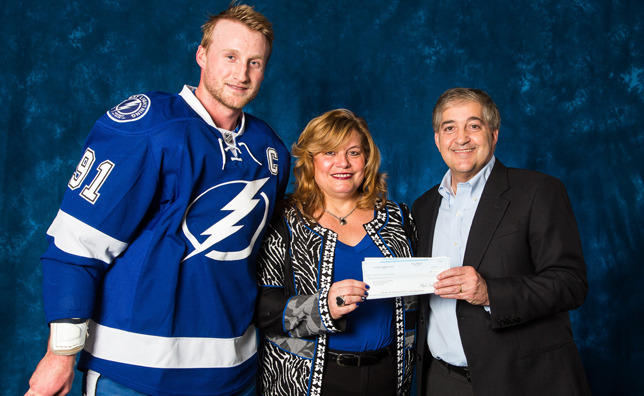 VICKI ANZALONE, FOUNDER OF WHERE LOVE GROWS
HONORED AS LIGHTNING COMMUNITY HERO
TAMPA BAY – On Sunday, February 8th, 2015, The Tampa Bay Lightning honored  founder of Where Love Grows, Vicki Anzalone, as the 28th Lightning Community Hero of the season during the first period of the game against the Anaheim Ducks. Anzalone, who received a $50,000 donation from the Lightning Foundation and the Lightning Community Heroes program, donated the money to Where Love Grows, Feeding America and Boys & Girls Clubs.
The thought of a child experiencing hunger because of a lack of access to food is what drove our Lightning Community Hero to intervene and make a difference in the Tampa Bay community. To combat this issue, Vicki founded Where Love Grows a 501(c)(3) mission dedicated to feeding hungry children home cooked meals. Since its inception in 2012, Where Love Grows has fed over 1200 home-cooked meals each year.
Vicki's approach has been to not only feed children, but to also teach them how to feed themselves through her summer cooking classes program. She does this with the hope to enable children to cook in their own homes, creating an alleviating solution and breaking the cycle of childhood hunger.