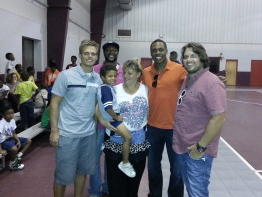 Family has always come first for me. It's what I love most, what I know best, and what makes me happiest.  In 2007, due to health challenges, I moved from New Jersey to Tampa, Florida. My health improved, and my zest for life returned. Feeling grateful, I was inspired to give back.
I felt fortunate to be able to move where my two sons were attending college, to able to spend time with my family and build relationships with the people close to my children.  Without anyone realizing, "family" traditions, including family meals and events, became the norm with my new extended Tampa family. The idea that "family" can embody anyone close to you, not just those related by blood, is what sparked the idea for Where Love Grows.
Where Love Grows keeps things simple. Everything that we do begins with love. When we serve home-cooked meals to children in need, organize summer cooking classes, or create lifelong memories, they all begin with love. Each life we touch creates a bond and adds a new member to the WLG family. Hoping to instill our family connection with those we meet, Where Love Grows leads by example. We accept anyone that comes to us, hoping they leave better and happier.
Vicki Anzalone, Founder
 "But through LOVE we shall serve one another."
Where Love Grows