Facts and Statistics
1 in 5 American children go to bed hungry each night.  Some children do not have anything to eat from lunchtime Friday until breakfast Monday morning when they return to school.  This doesn't include holidays and summer breaks.  The Tampa Bay area has one of the highest rates of childhood hunger in the country at 28%.
Kids who miss out on essential nutrients during their critical years of growth will be dramatically disadvantaged for the remainder of their lives.  Children without consistent food sources have compromised immune systems and are more likely to develop various health problems.  Kids who don't have enough to eat do worse academically and socially.
Self-Reliance and Independence
The summer cooking class program along with the newly established mobile cooking classes benefit children in many ways.  These classes teach important culinary skills and self-sufficiency while using items they can easily find at home.
With these skills, students can not only care for themselves but their families as well. Using their culinary expertise to cook for their families also promotes the idea of family dinners and the value of spending time with family.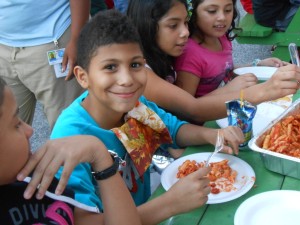 Communication and Collaboration
Family dinners and cooking classes would be impossible without teamwork and open lines of communication.  Successful family dinner nights and cooking classes include children working together and communicating to learn about one another and accomplish a common goal.  Students get an opportunity to work directly with their peers and enjoy each other's company in a non-competitive environment.  Collaboration with our partners plays a large role in the success of our family dinner nights and mobile cooking classes as they volunteer and help through donations.